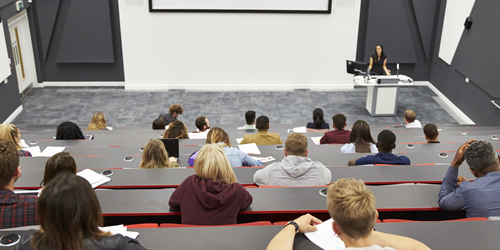 During this time they have extended from providing graduate nursing, midwifery and occupational therapy professional education to integrate foundations in health and social care, physiotherapy, operating department practice, paramedic emergency care, osteopathy and social work, and remain one of the largest providers in the UK.
The School of Health Care has state-of-the-art AVA classrooms and lecture theatre facilities, which includes the 150 seat Jane Ashley Lecture Theatre.
Oxford Brookes has made significant investment in facilities to support professional and clinical skills developments in providing a full range of clinical suites and simulation resources, which include:
Hospital ward areas,
A high dependency and theatre setting,
Osteopathic, physiotherapy and movement laboratory settings,
An activities of daily living suite with orthotics laboratory for occupational therapists,
A communications suite for affective skills development
The suites resources also include:
A computerised simulation family of mannequins (including a sim-baby and birthing mother),
State-of-the-art SMOTS system that provides video recording at each of the work stations. These recordings are used by lectures and students to analyse skills development,
A full range of state-of-the-art anatomy models,
An extensive range of electronic learning tools.