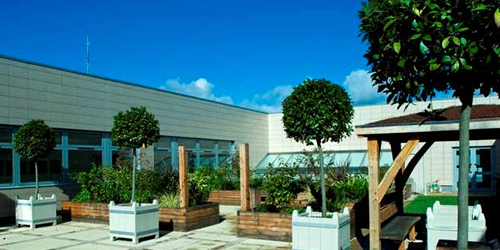 Cancers specific to women are treated in the Jane Ashley Women's Centre – a 20+-bedded ward, where the previous reputation of supporting women with breast cancer in the Jane Ashley Unit, continues the ethos in combining care of women with breast and gynaecological cancer.
"A real gem in the hospital. Just love it, especially in the spring and summer seasons."
To date, the Ashley Charitable Trust continues to provide invaluable support to the Jane Ashley Women's Centre through the garden and much needed equipment and sitting room furniture.
"I go to nature to be soothed and healed, and to have my senses put in order" - John Burroughs
The Ashley Charitable Trust is pleased that the achievements of the Jane Ashley Unit has been extended and subsequently raised and provided significant funding for the new Jane Ashley Garden – a haven for quiet relaxation and a place for families to meet privately throughout treatment.
The 400 square metre garden on the second-floor is divided into four areas, including glass sculptures, water features, seating, children's art and raised planting.
"Such a beautiful space and peaceful escape for patients, relatives and staff. Had many a patient appreciate the escape from the busy, and sometimes chaotic, ward environment to the quiet serenity of the garden during the time I worked on JACW."
Designed by leading UK garden designer, Sarah Morgan, the layout owes much to the experience of the original garden and seeks to provide similar facilities to enjoy access to quiet space. The garden is also open to the Centre in general.
The Ashley Charitable Trust is grateful to the individuals and organisations who have also contributed to the project.
Many people have supported the unit over the years, so as it entered a new era, the opportunity was taken to build upon the support of its friends through The Friends of the Jane Ashley Women's Centre.
The Ashley Charitable Trust continues to support through donation and representation as a Trustee, The Friends of the Jane Ashley Women's Centre (administered by the Oxford Radcliffe Charitable Funds).
"I worked on the unit for five years and this garden was my stress free zone. If a shift was mentally challenging and emotional, I would sit without any technology or even another person. Patients always appreciated the garden and would comment daily how wonderful it is. Its extremely appreciated."